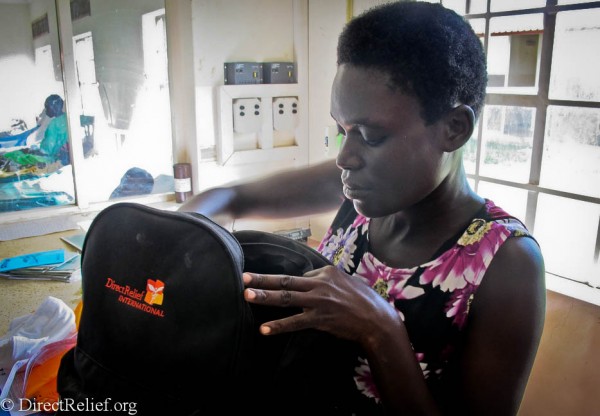 Pregnancy and childbirth are the leading causes of death and disability among women of childbearing age in developing countries. The vast majority of maternal and newborn death and disability can be prevented if women have access to a skilled healthcare provider during pregnancy and delivery.
Trained midwives play a central, frontline role in many countries in managing the health needs of women and newborns during pregnancy, childbirth, and the days and weeks following delivery. A well-trained midwife can provide high-quality care during normal deliveries, manage basic complications, and recognize when to refer a woman to higher-level facility for life-saving emergency obstetric care, such as a cesarean delivery.
Direct Relief is working with midwife-training institutions and health facilities in countries with devastatingly high maternal and infant mortality to provide trained midwives with specially designed Midwife Kits. Each Midwife Kit contains both durable items and essential consumable supplies to assist with 50 clean, safe births. Ensuring trained midwives are equipped with the basic tools they need to provide care during pregnancy, delivery, and in the post-partum period is essential to preventing dangerous complications and protecting the health of women and newborns.
"Giving birth without basic equipment can be a matter of life or death for women and their newborn infants."— Thoraya A. Obaid, UNFPA Executive Director, 2006
Program Highlights
Direct Relief is working to equip midwives with the essential tools they need in Sierra Leone, Uganda, Somaliland, Zimbabwe, Nepal, and Mexico. In 2012, Direct Relief delivered 200 Midwife Kits that contain the necessary equipment to provide for 10,000 safe deliveries.
In Sierra Leone, Direct Relief is working with the Medical Research Center, a local organization that supports the School of Midwifery in Makeni, only the second school in the entire country to provide midwife training. Sierra Leone is one of the most dangerous places in the world to be a mother. The lifetime risk of dying in childbirth is one in 21 women and only 42 percent of deliveries are assisted by a skilled birth attendant. In partnership with Medical Research Center, Direct Relief expanding midwife coverage in rural health centers, which are understaffed and underequipped to provide essential maternal and child health care.
In Nepal, Direct Relief is partnering with One Heart World-Wide, a nongovernmental organization that trains skilled birth attendants to care for women and infants during childbirth and the postpartum period—when the majority of maternal and newborn deaths occur. One Heart works in remote areas of Nepal, some of which still remain without road access. These regions suffer from inadequate health care facilities, shortage of skilled health care providers, lack of medical equipment, and weak medical referral systems. One Heart's newly trained skilled birth attendants are committed to staying in their remote communities to work at the birthing centers equipped by One Heart, and are fiercely dedicated to preventing maternal and newborn death. Upon graduation, the skilled birth attendants are equipped with a midwife kit from Direct Relief to help them provide quality health care to the women and infants in their communities.
In Somaliland, Direct Relief is working with the Edna Adan Maternity Hospital  to support the work of Community Midwives who play a vital role in improving maternal and child health in rural areas.